November 22nd, 2010 at 11:21 am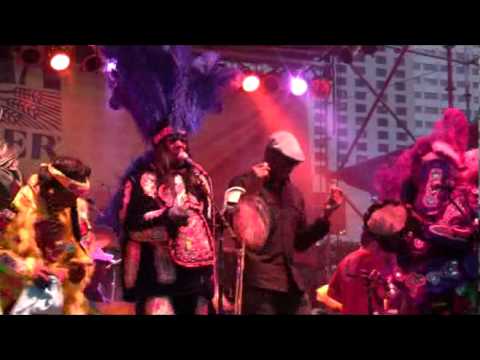 Holy headdress! The 101 Runners funk band, and featured guest Big Chief Monk Boudreaux (and his two-foot-tall hat), could be coming to Fayetteville.
These are far from done deals, we realize, but some recent activity by Fayetteville's Advertising and Promotion Commission has perked our ears.
The A&P commission recently doled out more than $220,000 dollars. The money comes from taking a percentage of a tax called the Hotel, Motel & Restaurant Tax, which, like the name implies, is affixed to restaurant and lodging sales. The idea is that these A&P-sponsored events will draw new faces to Fayetteville, who will in turn spend money on restaurants and lodging, creating more money for the fund.
Very few of the organizations that requested money got the full amount of the request. Consideration was given to newer organizations, we were told.
Of the many organizations that requested — and received — A&P funds, several were live music oriented. Following is a list of music-related organizations who asked for A&P funds. All are listed by the requested amount, followed by the amount received.
• 101 Runners Mardi Gras Indian Funk Band — $8,000 (requested)/$4,000 (received)
• Arkansas Music Pavilion — $80,000/$5,000
• Arkansas Entertainers Walk of Fame — $15,000/$5,000
• Artosphere — $45,000/$20,000
• Bikes, Blues & Hot Rods Too — $25,000/$5,000
• Songs in the 'Ville — $5,000/$1,000
• International Fulbright Concerto Competition — $20,000/$5,000*
• Rock-It — $14,000/$0**
* Received an earlier distribution of $10,000
** Received an earlier distribution of $7,000
Courtesy of my Listen Here! column that published last week in What's Up!, I offer a little insight into what can be expected from each event. To see that column, take a look at last week's What's Up! [Note: subscriber content].
Realize that none of these events are guaranteed to happen, but… it gives us some things to look forward to in the next 12 months or so.
What are your thoughts on our first glimpse into our live music scene in 2011?