August 26th, 2008 at 2:11 pm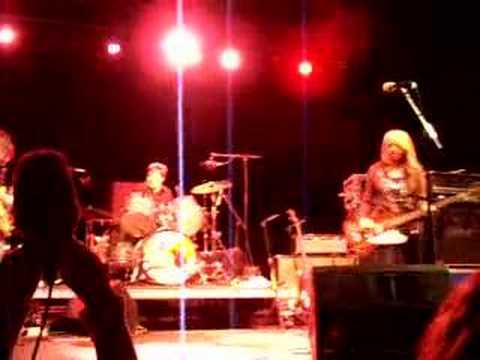 Above, Sonic Youth performs "Incinerate" at the Dickson Street Music Festival in April 2008.
Fall classes at the University of Arkansas started yesterday (Aug. 25), and that means there are plenty of new faces in the area, some of which, surely, who have not experienced a music-friendly atmosphere such as Fayetteville.
Consider this Local Rock 'n' Roll 101.
College, when many are introduced to different cultures — and divergent music tastes — for the first time, is a great place to discover new bands. It's where I was introduced to many of the groups I consider my favorites: Wilco, The Jayhawks, My Morning Jacket, etc…
With that in mind, MSN has a guide to all the music you need to know.
Sort of. There are some strange inclusions on their list, and a few the blog thinks ought to be mentioned. Click below for the list, and for our take on some other artists people should get acquainted with.
For those of you too lazy to browse through all the photos at the MSN link above, here's the list:
2) M.I.A.
3) R.E.M.
4) Sonic Youth
6) My Morning Jacket
8) Public Enemy
10) The Clash
11) Run-D.M.C.
12) Bright Eyes
13) Fleet Foxes
14) The Smiths
15) Wu-Tang Clan
16) The Roots
17) Gnarls Barkley
18) The Hold Steady
19) Pavement
Although we won't discredit any of the bands on the list, there are some interesting selections, especially in terms of their newness: How many of you out there are pumping Run-D.M.C. or Wu-Tang through your boom boxes these days?
I'd suspect some lesser known rap artists such as Lupe Fiasco or Three 6 Mafia (who perform in Fayetteville on Sept. 19) are on the cool kid's iPods these days, but I've never been one to claim I know everything.
And The Smiths? Great band… but perhaps Morrissey and his solo work, or the band The Smiths' Johnny Marr joined last year, Modest Mouse, would have been better inclusions on this list.
Or what about Pavement's former frontman, Stephen Malkmus, whose new band (New is relative here. He's been performing with them for years now), The Jicks, released what has to be one of the better albums of 2008, "Real Emotional Trash."
But I digress.
It's interesting to note that a few of MSN's selections for college-aged listeners were either here recently or are on the way. Sonic Youth played Fayetteville in April. The Roots (delivering the best live music performance I've seen in my two years of living in Fayetteville) came through in 2007. Bright Eyes, who now tours by his given name, Conor Oberst, will perform Sept. 23 at George's Majestic Lounge.
But there are a lot of great bands on the list and plenty of people to check out. Here are a few others I've been digging recently: Bon Iver and Frightened Rabbit, to name a couple.
Here's a few more to check out: The Whigs, Lucero, Dr. Dog and Red Dirt Rock acts such as the Randy Rogers Band, which will be in town Aug. 28. All draw a considerable crowd every time they appear in town, which is at least once a year, maybe more.
If you haven't already found them, the University-affiliated radio station KXUA plays an eclectic mix of underground tunes.
Of course, there are plenty of local bands to check out as well. I won't list them all, but there is plenty of talent around.
Have fun learning.
Of course, we'll take your suggestions for can't-miss music acts, too. Feel free to comment below.