December 18th, 2007 at 1:16 pm
I'll start with a disclaimer: I have not heard every CD released this year. M.I.A.'s new album is supposed to be great, but I don't own it. I do own one of the best-reviewed albums of the year, techno band The Field's "From Here We Go Sublime" but I just couldn't get into it. In fact, you'll notice there isn't much rap, R&B, country or just about any genre that isn't rock 'n' roll on my list. So accept this list as the best of what I like and the best of what I've heard.
And please, comment away. I'd love to hear what you're favorite albums are, too. That's why I think these lists are so fun. I doubt anyone has the same list as I do, and you may even completely disagree with a selection, but that's what's so great about music. It affects us in ways we don't expect, in personal ways, and the lyrics or riffs in my list are filtered through the context of who I am.
Here is a good summary of what others are choosing provided by Metacritic. Here's another take by Rolling Stone. Below are my picks. What are your favorite albums?
Click here to continue to the full list.
14) "Brag & Cuss" by Rocky Votolato
While it may not have been as thoroughly solid as his outstanding 2006 album, "Makers," Rocky Votolato's second collection of rustic homages in 20 months opens the countdown of my favorite albums of 2007. The Seattle-based songwriter hasn't forgotten that he lived in Texas during his childhood. These songs are often as Southern as the word y'all and are arguably more "country" than the pop hits on contemporary country stations. Often about whiskey or fights caused by it, the tunes are soaked in the musings of a man weary of the road and longing for his companion. Votolato's acoustic guitar is the primary instrument here, but his voice, limited in range but captivating in its honesty, comes in close second. And while the music is more richly adorned than that in his previous release, sparse is still a good adjective: there are a few guitar licks, a rumble from a lonesome banjo and a mandolin chop or two. And although songs such as "Red Dragon Wishes" are rushed story songs missing a final chapter, it's songs such as "Whiskey Straight" that indicate Votolato isn't just a boy with guitar act.
13) "Brilliant & Charming" by Benjamin Del Shreve
Local rocker Benjamin Del Shreve worked on his self-released album, "Brilliant & Charming," for years before its November release. At times, it was a folk-rock record, and it was also confiscated as part of a studio repossession, so he's not entirely at fault. The Northwest Arkansas Times chronicled those events here. Unfortunately, the album seems like it spent a little too much time in the hands of producers. The nonverbals, chatter between tracks and other random noises inserted into the mix steal from the high-tempo pop magic that comprises the 12 tracks on the album. When Del Shreve and company are at their best, on the title track and on others such as "Alana" and "Oh Fair Moment, Oh Fair Tonight," their raucous blend of boogie rock exudes a center-of-the-party attitude that holds its weight against any of the better indie rock records that were released by established artists. Unfortunately, he sometimes tries too hard — as on tracks such as "To Be In Your Arms" — and doesn't produce. It's still the best local album that crossed my desk this year, and songs such as "Flowergazer" make you wonder why the band isn't internationally famous.
12) "Wincing the Night Away" by The Shins
Don't worry. James Mercer, front man for The Shins, can still write a pop song. Yes, the once-darlings of the indie world are a pretty big deal now, as evidenced by the album's debut at No. 2 on the Billboard charts. But for all the hype, Mercer and company deliver. "Wincing the Night Away" follows, to a large part, the same path as the band's previous records: pop rock nuggets that carry just a bit of weight. But Mercer knows not to take what they do that seriously. The songs, therefore, are often singable, the type that have no place on modern radio but just might bounce around in your head on repeat for a couple weeks. Reviewing the disc for this blurb, the lilting melody of "Australia" has already fixated itself in the part of my brain that might make me whistle it at work.
11) "Sky Blue Sky" by Wilco
It took me a while to come to terms with "Sky Blue Sky." The first pondering stanzas of Wilco's latest offering proved instantly it wouldn't follow the script molded for it by the band's breakout album "Yankee Hotel Foxtrot" or the hard-rocking grooves of songs such as "Spiders (Kidsmoke)" from the 2004 release "A Ghost Is Born." No, this would be a different Wilco, one that immediately hawked themselves out for a slew of Volkswagen commercials. In that sense, it might be conceived as Wilco-lite, a poppy version of a much stronger and musically inclined band. But what Jeff Tweedy and his band did here was create a more accessible album that after multiple listens unfolds the intricacy's of the multi-guitar attack. And while the lyrical depth doesn't seem to match the stirring songs of Wilco's past (think "Via Chicago" or "Jesus, Etc.") the band does remain to stay topical because it is, we must reminded ourselves, growing into middle age. This is a band that still deals with heartbreak ("Leave Me Like You Found Me") and household responsibility ("Hate It Here"). It's an album that gets better each time it's played, and it also proves something else: "Impossible Germany" may be the best song Jeff Tweedy has ever written, and that says a lot.
10) "Cease to Begin" by Band of Horses
Before the release of their second album, "Cease to Begin," the members of Band of Horses moved from Seattle to the more quaint and southerly confines of Mount Pleasant, S.C. It shows. More folky, more country and more catchy than the debut release "Everything All The Time," the October offering from BoH is the album everyone hoped they'd make after a stellar debut. Songs such as "General Specific" is a dirge from a dirty saloon, complete with acoustic guitar and an upright piano. "Ode to LRC" is a veiled tribute to any town where everyone still waves to passing motorists as they drive down the road.
9) "Ga Ga Ga Ga Ga" by Spoon
In August, not long after the release of "Ga Ga Ga Ga Ga," I told my friend I didn't like it. It didn't have the same cannot-shake-from-your-head qualities as the band's two previous albums, "Kill The Moonlight" and "Gimme Fiction." And the album's first single, if a band such as Spoon actually has a single, "The Underdog," hadn't convinced me it could hold its own head above water. As it turns out, that cut was the most anemic on the album — and the other songs proved to be the same sort of pop-heavy indie rock you'd expect from the darlings of the Austin indie rock scene. Standout tracks such as "Rhthm & Soul" and "You Got Yr. Cherry Bomb" are of the same bloodline as some of the band's previous gems, such as the unforgettable "The Way We Get By" or "I Turn My Camera On." Unlike what he pleads in the album's opener, "Don't Make Me A Target," songwriter Britt Daniel has done just that — we'll expect another offering of such fine pop rocks the next time Spoon makes an album.
8) "Boxer" by The National
The highly anticipated followup to the 2005 release "Alligator," The National are as somber as they are melodic. Sung in singer Matt Berninger's resonant baritone, these songs would be utterly depressing if they weren't so lushly adorned. Keyboards, strings and the occasional brass instrument cut through the crushing weight of these songs like a foghorn on a San Francisco morning. That the band can totter in such a delicate place — somewhere between melancholy and madness — is remarkable. And while these songs may be about disillusionment and excess, The National leave you wanting more.
7) "The Reminder" by Feist
This was an album destined for obscurity, until the folks at Apple decided to feature the song "1234" on a commercial for an iPod. The song and album rapidly moved up the charts. The Grammys apparently hadn't heard of Leslie Feist either, nominating the Canadian songwriter for Best New Artist, apparently oblivious to the fact that she has three solo albums to her credit over the past eight years and is also a member of Canadian collective Broken Social Scene. But there is something to be said of her meteoric rise — when her new album was discovered, most found it to be outstanding. She's got a knack for writing pop hits (and yes, she actually wrote them) and tracks such as "My Moon My Man" the aforementioned "1234" have an unmistakable singalong quality. Outside even those margins, Feist still shines as brightly as her uber-cool album cover. There is considerable diversity here — using instruments as diverse as a banjo and harp — from hand clapping dance rock ("Sealion") to breathy and delicate numbers where Feist's sweeping vocals are the main instrument ("Honey Honey").
6) "Because of the Times" by Kings of Leon
I should preface by saying I WAS a huge fan of Kings of Leon. I used to play "Youth and Young Manhood" almost weekly. I even bought the EP that was released as a precursor to that album. And then, the church-music-makers-cum-southern-rockers released "Aha Shake Heartbreak" in 2005, and it was mostly dreadful. I didn't even bother to pick up "Because of the Times" because I expected it to be awful, overproduced and underwhelming. A friend promised the new album was better, so I eventually gave it a listen and immediately regretted I didn't get it the day it came out. The boys, originally from Tennessee, are back. The old saying encourages people to only write what you know, and I think that's precisely why this album works. They come from small town southern America, and songs about unplanned pregnancy ("Knocked Up") and beautiful women in muscle cars ("Camaro") are befitting of where they were raised. This is riff-laden, rowdy rock, the kind you'd want to blast from the rolled-down windows of your car (a Camaro, perhaps?) on the way to a barn party.
5) "Person Pitch" by Panda Bear
I don't own much music by Animal Collective, so when the band's drummer, Noah Lennox, aka Panda Bear, released a solo album I didn't exactly rush out to get it. But it received such glowing reviews that I eventually decided to give "Person Pitch" a try. I'm glad I did. My introduction to Panda Bear was the album's opener, "Comfy in Nautica," where Panda sings "Try to remember always, just to have a good time." Pretty easy to do with this album playing. It's full of weird, spacey, experimental jams, but it's also remarkably catchy. "Bros" is the standout tune here, and it takes more than 12 minutes for the track, filled with acoustic guitar, chant-like vocals and the sounds of a baby crying and missiles firing, to unfold. Panda uses an awfully broad sonic palette, but the discovery of beautiful nuggets of strange sounds is part of the fun. I'm not sure if this album is charmingly weird or weirdly charming, but it works either way.
Panda Bear sings "Comfy in Nautica":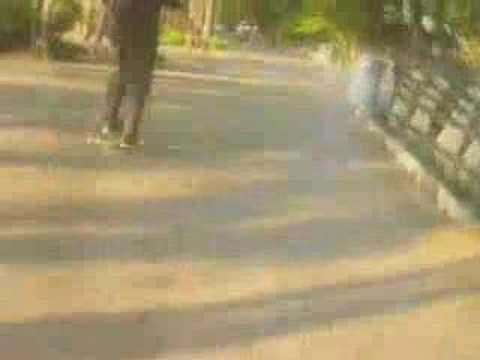 4) "Neon Bible" by Arcade Fire
There are at least seven members of the Arcade Fire — the band often employs the help of other musicians, too — and the list of instruments those members play add violin, double bass, xylophone, mandolin and more to the standard rock band configuration. They need each one to pull of such a lush sound. "Neon Bible" could serve as a lesson to up-and-coming bands in the way it ebbs and flows or crescendos before crashing. These songs, like a good movie, build tension and makes the listener hold on for the climax. There's no better evidence than in "No Cars Go," where blaring guitar riffs are replaced by soft strings and Win Butler's cries of defiance. "My Body Is A Cage" is another of those tracks, one that carries with it a innate power that only a band comfortable with their own sound can produce.
Arcade Fire perform "No Cars Go":
3) "Mirrored" by Battles
I've allowed several people to listen to "Mirrored," the full-length debut from Battles. Their reactions have said a lot. A co-worker hates it. "What is this?" a friend asked, shooting me a look that questioned my sanity. One of my roommates had another reaction. "It's really different, but I think I kinda like it." Different is clearly a good adjective for this album. In the hands of amateurs, progressive and potent math rock can be a dangerous thing. Luckily, Battles have the chops to pull it off. The band is comprised of a quartet of musicians who have previously played in bands such as Helmet, Don Caballero and Lynx. Expect highly aggressive drumming, radical guitar playing and what might be the band's fifth member: the vocals. The group's previous EPs didn't feature vocals, and this album does, but not in the conventional sense. The voices are filtered, processed, chopped, looped and otherwise altered until they become just another instrument. At alternative times, this album reminded me of a Disney movie soundtrack, the background noise from a Chinese restaurant and the music I might play in my head if I was about to fight. You might hate "Mirrored." You also might find you like it.
Battles perform "Atlas":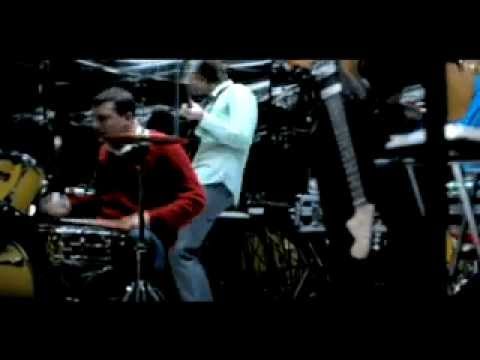 2) "Magic" by Bruce Springsteen and the E Street Band
Yep, The Boss has still got some of his old magic. That this album wasn't among the nominees for the Album of the Year Grammy absolutely astounds me. I usually cower at the thought that icons from two decades ago still make music. Most is terrible. But this album contains everything that made Springsteen a star. It seems familiar the first time you listen to it, like it was hiding on a shelf somewhere and you've forgotten to play it for a few years. Bruce's voice sounds great, as does the swinging saxophone and gritty-but-good guitar runs. While The Boss steps into political territory on a few tracks (especially "Last To Die"), I'd argue the two best tracks go nowhere near the topic of war. "Girls In Their Summer Clothes" ranks among the best songs he's ever written, and "I'll Work For Your Love" would surely find Springsteen a whole list of suitors if he wasn't married to Patti Scialfa.
Follow this link to watch Bruce Springsteen and the E Street Band perform "Radio Nowhere."
1) "In Rainbows" by Radiohead
Ah yes. My favorite album of the year. Radiohead made headlines when they launched a music industry experiment and allowed people to name any price for a download-only version of the band's seventh studio album, "In Rainbows." But beyond the discussion of what everyone paid for the album, Radiohead created a different sort of buzz, too. "In Rainbows" has been popping up on best-of-album lists all over the country, and it tops mine, too. When I saw Radiohead live during the summer of 2006, they played "Bodysnatchers" more than 12 months before releasing the song. I remembered thinking at the time I hoped the rest of the upcoming album would be as good. It was, and I'm not even sure "Bodysnatchers" is my favorite track. "Nude" is stark and beautiful. "The Reckoner" carries as much force as "Paranoid Android" and Thom Yorke's trademark falsetto rings as true as ever. This is not the hard-charging Radiohead of "The Bends" and "OK Computer" era, and this is not the electronic-loving Radiohead of the "Kid A" and "Amnesiac" era, either. This is a band somewhere in between, dabbling in both and better because of it. It's precisely where you hoped they'd be at this point in their career.
Radiohead perform "The Reckoner":